In the Town of Castle Rock, pet license fees and donations are an important source for funding essential animal services. When you license your pet, know that you are doing your part to help your local shelter workers care for lost, injured and abused animals.
We are proud to call Dumb Friends League Buddy Center the current Safe&Happy Partner in Castle Rock. This means that 20% of every product sale (designer tags, collars and leashes) is donated to Dumb Friends League Buddy Center in an effort to provide additional funding for the community's vulnerable animals and the staff that serves them. They are doing some pretty amazing things for local animals in need, read on to learn more about this great organization!
20,000
Animals sheltered
per year
16,000
Adoptions
per year
300
Employees
200,000
Volunteer hours
2,700
Lost Pets Reunited
1,300
Volunteers
Talkin' Shop
Here's what's been going on at Dumb Friends League Buddy Center
What is something you are proud of as an organization?
In 2021, the Dumb Friends League partnered with the Animal Welfare Association of Colorado and the Colorado Veterinary Medical Association to successfully champion House Bill 21-1160, which requires medical and behavioral care for cats and dogs in shelters and rescues across the state. Together, these requirements represent one of the nine tenets of Socially Conscious Sheltering, a compassionate and thoughtful model outlining how shelters can best support vulnerable animals in their care and community.
The nine tenets of Socially Conscious Sheltering are to:
Ensure every unwanted or homeless pet has a safe place to go for shelter and care
Place (at least) every healthy and safe animal in loving homes
Assess the medical and behavioral needs of homeless animals, and ensure these needs are thoughtfully addressed
Alleviate suffering and make appropriate euthanasia decisions
Align policy with the needs of the community
Enhance the human-animal bond through thoughtful placements and post-adoption support
Consider the health and wellness of each animal and community when transferring animals between communities
Implement inclusive policies and practices
Foster a culture of transparency, ethical decision-making, mutual respect, continual learning, and collaboration
The League is proud to have played a part in the passage of this legislation and to be a member of a growing community of shelters, rescues, veterinary practices, and policymakers across the country committed to embracing these tenets and advancing the field of animal welfare. For more information on Socially Conscious Sheltering, please visit scsheltering.org.
What is something that makes your organization unique?
In addition to ensuring that each animal in our shelters receives medical attention and treatment, the Dumb Friends League also provides donor-subsidized veterinary services for more than 19,000 owned pets and asocial cats each year through our Community Veterinary Services (CVS) program. In fact, the Dumb Friends League Veterinary Hospital at CSU Spur is one of the only clinics in the country committed to reducing barriers to accessing both preventive and urgent care for people and pets from under-served communities. Likewise, our CVS program brings essential veterinary care to eight priority neighborhoods across the Denver Metro Area through mobile vaccine clinics, serving more than 3,500 pets per year.

Through equal access to care, CVS strives to understand our community's needs and offer supportive solutions that will keep companion animals healthy and by their families' sides for many years to come, but our innovative work doesn't stop there! At our CSU Spur teaching hospital, we offer a one-of-kind education center for the Colorado community where veterinary students, new graduates, and members of the public can learn and be inspired. Specifically, we aim to engage diverse populations in the essential work of veterinarians and expose young people to STEM-related careers so they can begin to see themselves in these roles. League veterinarians perform "on-view" surgeries, meaning the public can view live procedures through glass while docents from Colorado State University (CSU) field questions for our veterinary team. Additionally, children and adults can participate in humane education activities, explore mock exam rooms, and enter the fascinating world of veterinary practice through virtual reality simulators for a truly unique learning experience!
What is a program you run that is important for people to know about? The Dumb Friends League knows that the bonds we share with our pets are essential, and we are dedicated to doing everything we can to help families stay together. In 2016, we created the Pet Assist program to provide free, short-term foster care for animals whose owners are facing crisis, including temporary homelessness, domestic violence, and unexpected or prolonged illness.

For many, it is nearly impossible to choose between seeking help for themselves and caring for their pets. A recently evicted or unhoused individual may fear losing their beloved companion animal due to a lack of pet-inclusive housing or shelter. This growing scarcity in housing resources also impacts those experiencing family violence, with many choosing to stay in abusive situations rather than leave and risk the loss or harm of their pet.

Thanks to this vital community program, people can seek housing, refuge, or treatment with the comfort of knowing that their pet, who may represent their most important relationship, is safe. "Knowing that my pets were well-cared for—but that I would get them back—gave me great peace of mind during a difficult time," shared one recently surveyed Pet Assist patron.

Designed primarily for cats and dogs, Pet Assist offers shelter, foster, and veterinary care for an initial three-week period, with the potential for an extended stay based on the owner's circumstances and the League's available resources. From 2020 to 2021, demand for the program doubled, indicating a growing need for these services in our community. As such, the League is working hard to procure designated resources to ensure continued access to this essential program.
What is the biggest obstacle(s) your organization faces while caring for animals?
As a nonprofit organization that is entirely community-supported, the Dumb Friends League works tirelessly to raise adequate funding so that we can continue to provide the animals in our shelters with the highest standard of care. With adoption fees well below the average cost of care for companion animals at our facilities (a number exceeding $550 in our last fiscal year), we rely on the compassion and generosity of a community of individual, foundation, and corporate donors to ensure this work continues.
Can you share a story of a specific pet you helped recently? What was the case and what was the result?
Scout found himself a victim of circumstance when a move sadly forced his original owner to relinquish him to the Dumb Friends League. The 1-year-old Catahoula mix first came to our San Luis Valley Animal Center in Alamosa, CO in the hopes of finding a new loving home to call his own.

With his familiar people and surroundings suddenly gone, Scout quickly became distressed. He was fearful of strangers and constantly looking for an escape. Our San Luis Valley team opened their arms and hearts to him, and, over the coming days, he gradually came to trust his new caretakers. Soon enough, Scout's anxiety faded into excitement and playfulness, and he welcomed the attention. Still, he couldn't seem to find the right fit for the next chapter in his life—that is, until he was transferred to another Dumb Friends League shelter—the Buddy Center in Castle Rock, CO.

When Dalton and his girlfriend saw Scout at the Buddy Center, they were smitten by his gentle and friendly demeanor. "Almost immediately, we knew that Scout needed us, and we needed him," they recalled. With the help of League staff across the state, Scout was able to gain vital trust in our care, thereby allowing him to bond with, and accept love from, the right family. "We couldn't have asked for a better dog," said Dalton.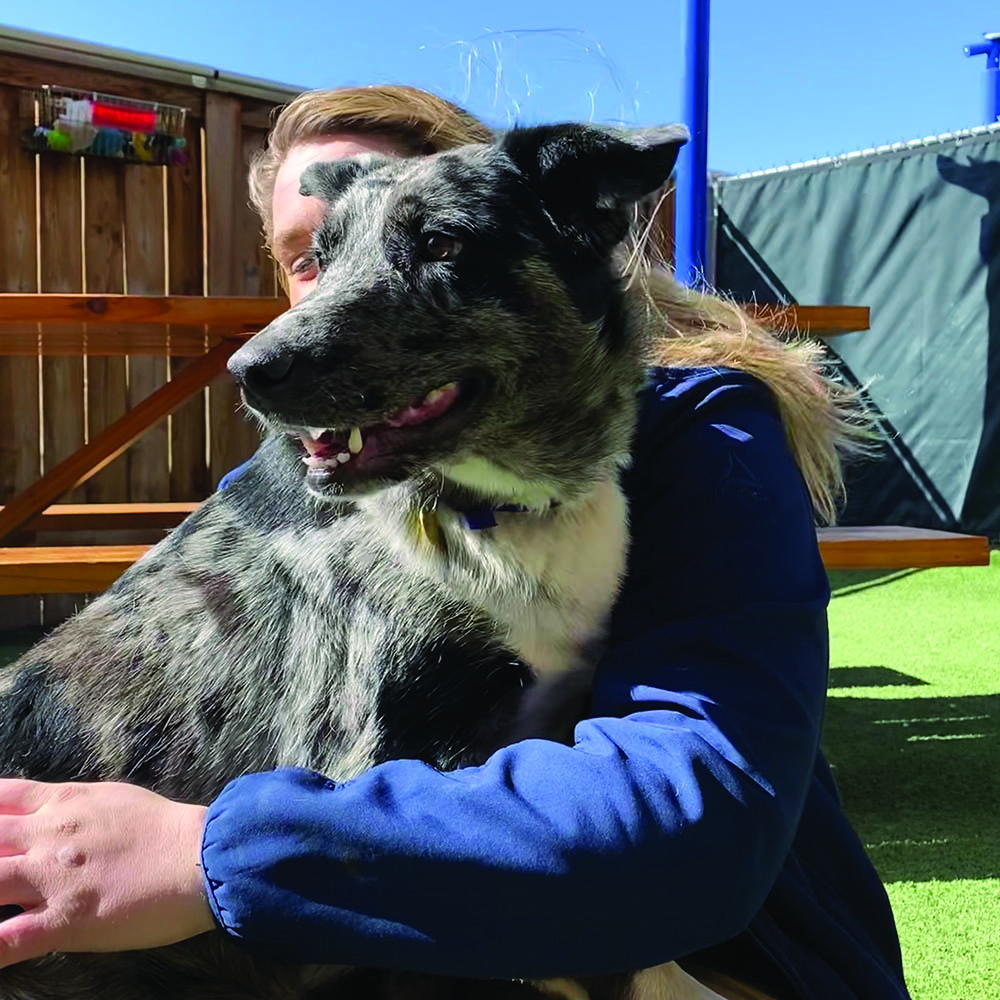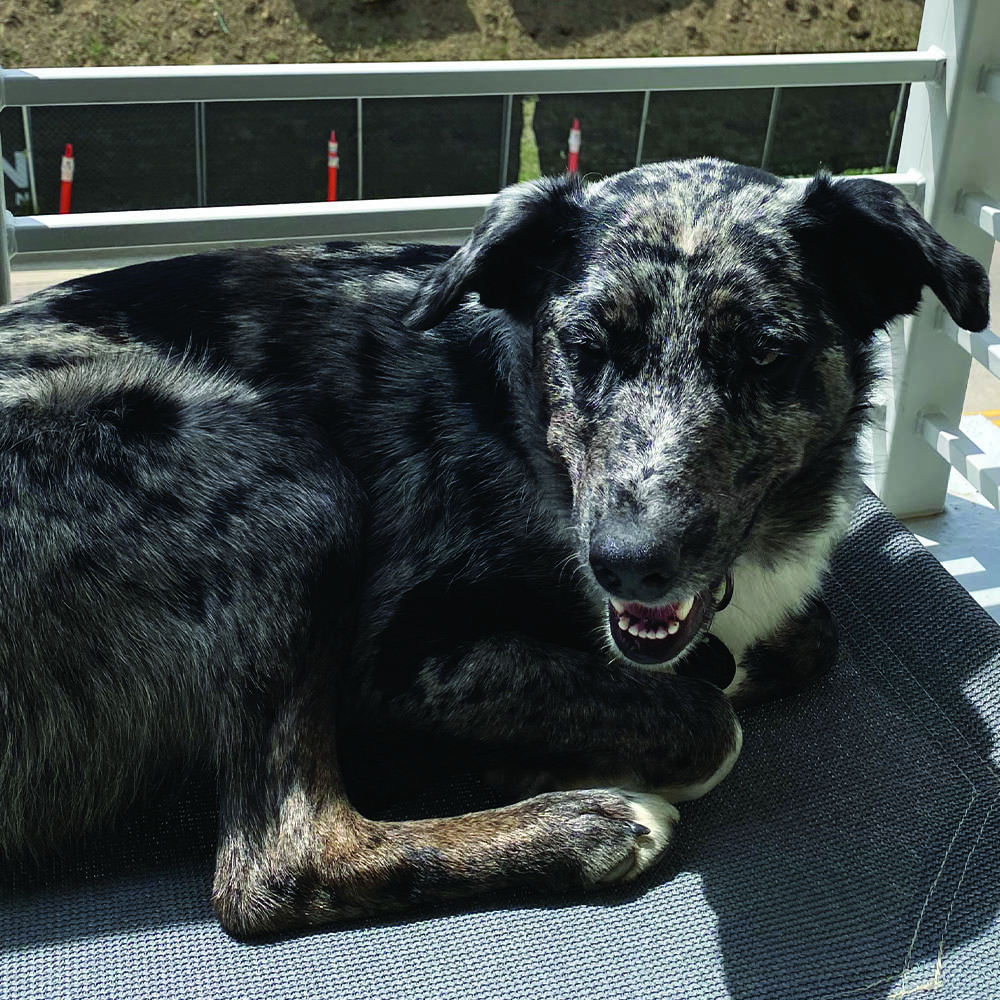 In your words, why are pet licenses important?
Depending on where you live in the country, a pet license may be a requirement for pet ownership. However, regardless of your local requirements, a license is a critical tool to ensure that you can be reunited with your pet if you are ever separated or if your pet becomes lost.
How do monetary donations and licensing fees help out around your organization?
The Dumb Friends League is 100% community-supported, and every animal in our care is helped in some way by our compassionate community of donors. From contributing much-needed supplies, philanthropic donations, business partnerships that support our mission-driven work such DocuPet's Safe&Happy Fund and pet licensing program, our supporters make all the difference.
How can people help or volunteer?
Those interested in learning more about how to support our work, including volunteer opportunities, can visit www.ddfl.org.
If someone wants to donate pet supplies, what are the items that are needed most?
The League maintains a wish list of our most-needed supplies for the animals in our care at ddfl.org/supplies. These supplies can be mailed to the League or donors in our community can drop them off in person (please call ahead to confirm drop-off instructions with our adoption locations).
What should people know before adopting a pet?
For new pet owners, the League recommends carefully considering what is required to care for the animal they may be interested in adopting. Pet ownership can take more work and be a greater time commitment than adopters may realize, and it is important to familiarize yourself with the medical, behavioral, enrichment, and other needs of your potential new pet before adopting.
What is your best advice for pet owners?
Pet ownership is a commitment that will ideally last for your pet's lifetime. Familiarize yourself with the particular species, breed, and individual nature of the animal you plan to adopt, ensure that you are ready to provide the time and care this new pet will require, and plan ahead for costs that may arise after your pet's adoption day, such as veterinary bills, pet sitting, or dog walking – common necessities to keep your pet healthy and happy.
What is an easy way for community members to help support your organization?
Community members can support the Dumb Friends League in many different ways, including making a personal donation, contributing supplies to support the animals in our care, shopping with one of our give-back partner businesses, or volunteering their time at one of our facilities.
For more information about The Buddy Center, visit
www.ddfl.org/buddy-center